HR Analytics
Obtain data, control processes, and tackle challenges using the HR data analysis module.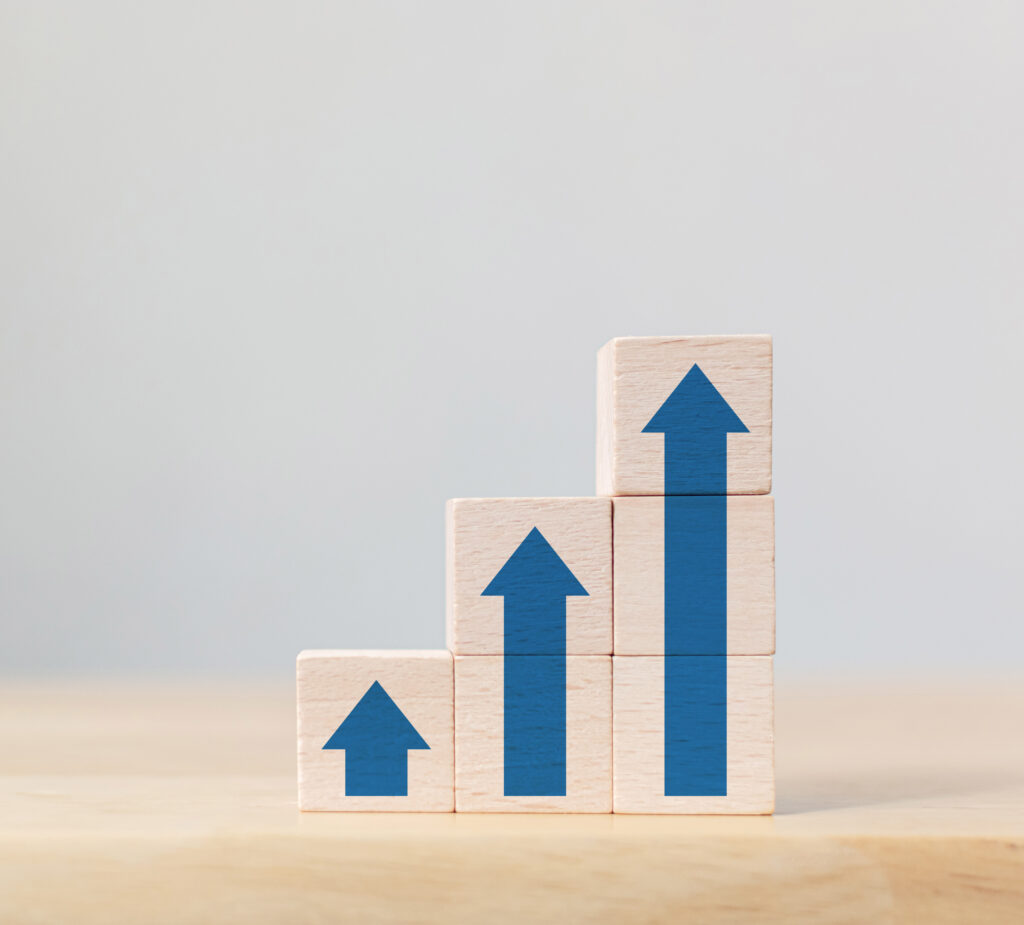 Why choose our HR Analytics module
HR Analytics will deliver valuable data about your organization. It covers every process in your company, from recruitment to employee exits. Thanks to obtaining data and its analysis, you may improve your company and facilitate its dynamic growth.

Obtain data about employees and candidates
Data about employees and candidates, i.e.: their level of adjustment to the company, and information about their personality, strengths, and areas to develop, will help you effectively manage talents in your organization.

Gather employees' feedback
By analysing employees' opinions, you collect invaluable data, which will be a base for a long-term action plan. You will be able to quickly react to new challenges and difficult situations.

Analyse employees' exit reasons
You can conduct an Exit Interview with the Ostendi Team Insight Survey and learn the reasons for your employee's departure. Based on this data, you may plan proper actions to prevent people from leaving in the future.

Clear reports
Our solutions let you generate clear reports immediately after completing a survey. You may generate them in PDF, HTML, and XLS formats.
See what our platform looks like!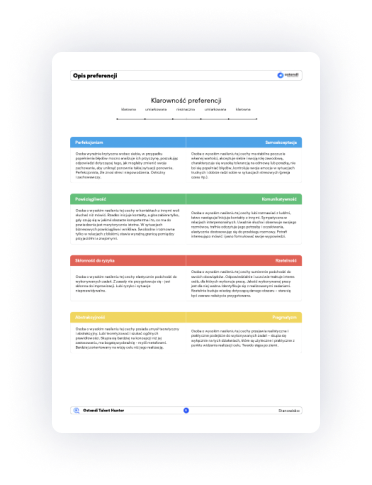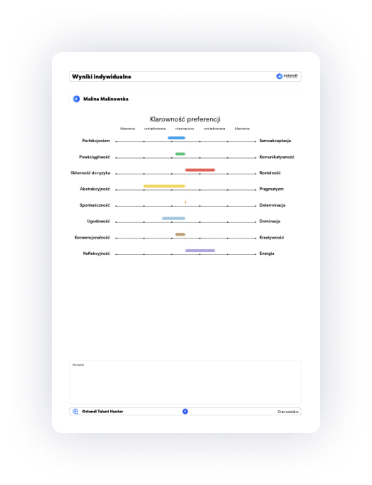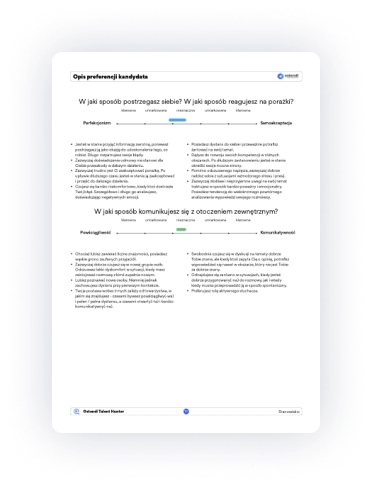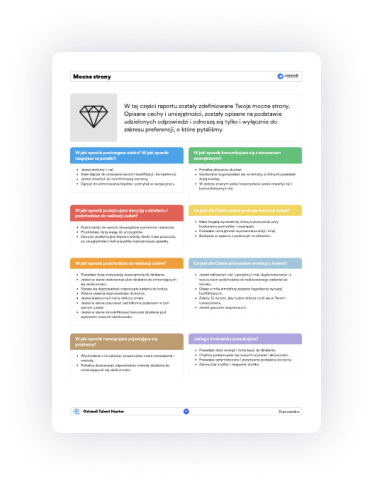 Learn more about
the HR Analytics Module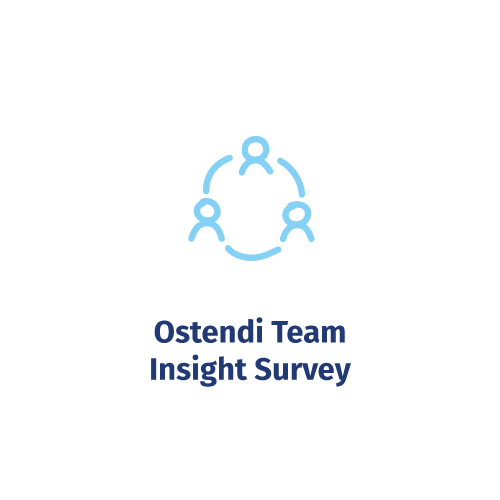 Learn your employees' opinions and build a culture based on feedback
A culture based on feedback and engagement is a crucial part of every organization. One of its pillars is the ability to listen to the needs of employees. It is crucial to recurrently ask employees for opinions on areas relevant to your company.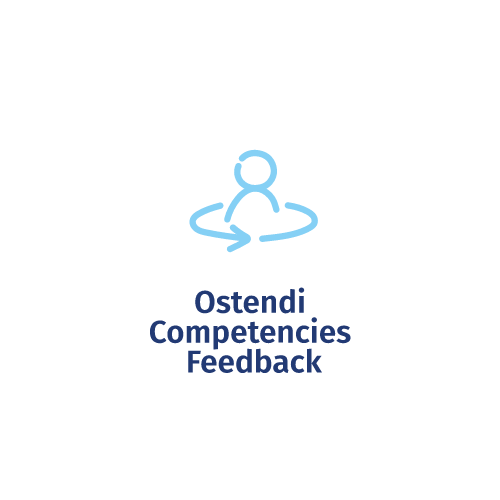 Ostendi Competencies Feedback allows you to objectively test your employees' competencies
Using advanced Ostendi technology, you can quickly and efficiently conduct competencies feedback. You will receive specific data about your employees' strengths and their areas for improvement to help them achieve extraordinary outcomes.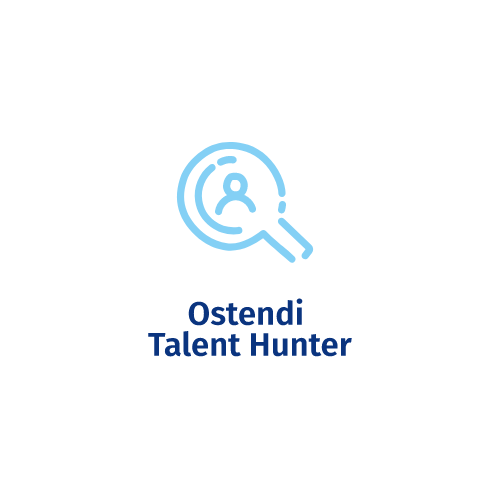 A revolutionary tool for recruitment and talent diagnosis
Hire employees well suited to your company's requirements. The Ostendi Talent Hunter is a simple, accurate, and reliable tool to measure personality traits. It tells you whether your employee is tailored to the job and the company's culture.
Do you want to learn more HR analysis?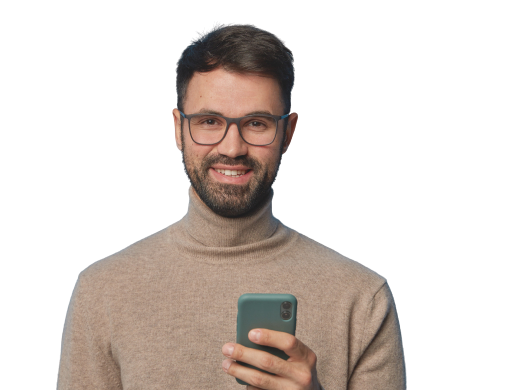 ×
Send us a filled up form and we send to you demo report on your email